How to Make an Impact on Your Business with Online Education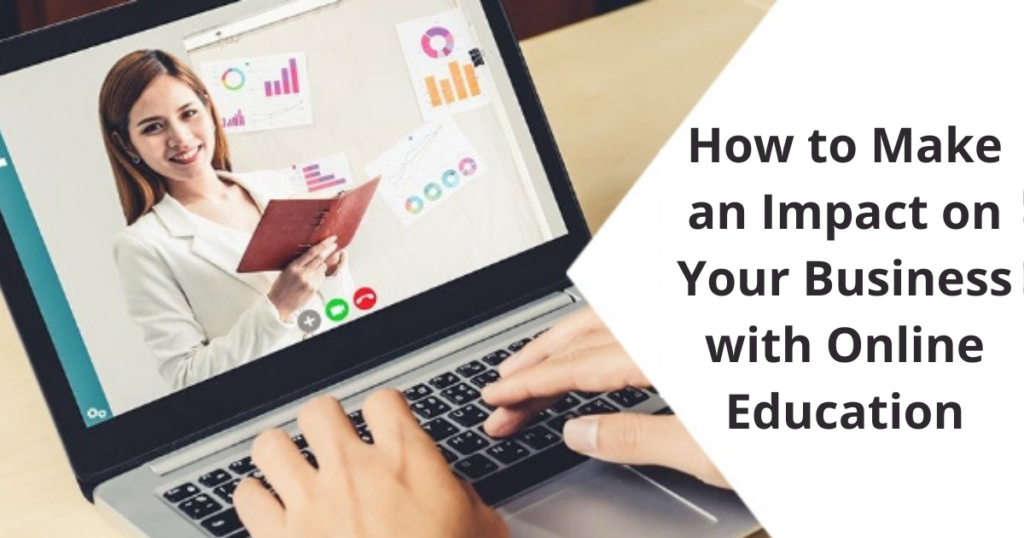 It's no secret that online education is on the rise. More and more people are choosing to get their education online, and for good reason. Online education offers flexibility, convenience, and affordability that traditional colleges can't compete with. But what about businesses? Can online education help them as well?
The answer is a resounding "yes!" Online education can help businesses in a variety of ways, from increasing sales to improving employee productivity. In this blog post, we will discuss some of the ways that online education can benefit businesses. We'll also provide tips for getting started!
Benefits of Online Education for Businesses
There are many benefits to online education for businesses. Some of the most notable include:
Increased Sales: One of the best ways to increase sales is to improve employee productivity. Online education can help employees learn new skills and become more productive. In fact, a study by The Conference Board found that companies with highly skilled workers have sales that are 18% higher than those of companies with low-skilled workers. Online education can help businesses close this skills gap and improve their bottom line.
Improved Employee Productivity: Another benefit of online education is improved employee productivity. Employees who have access to online courses are able to learn new skills and apply them directly to their jobs. This can lead to increased efficiency and a better bottom line. In addition, employees who participate in online education are more likely to be promoted than those who don't.
Reduced Costs: Online education is often much more affordable than traditional colleges. In fact, many online courses are free! This can save businesses a lot of money in the long run. Online education also allows businesses to train employees from anywhere in the world, which reduces travel costs.
Increased Brand Recognition: Online education can help businesses increase their brand recognition. When employees become certified in specific areas, it reflects positively on the company they work for. Certifications show that the business is invested in its employees and is willing to provide them with the tools they need to succeed.
Online education is a great way to achieve this.
Tips for Online Education
If you are interested in online education, there are some things you should keep in mind before starting. The following tips can help make the process easier and more effective:
Do Your Research: Online courses vary widely in quality and content, so it's important that you do your research before enrolling in one. Look for reviews from past students or take advantage of free trial periods offered by many providers. You should also consider what type of material will best suit your needs as an employee (or employer). For example, if you are looking to become certified as a nurse or other healthcare professional then an RN program might not be right for you but instead something along the lines of a CNA course might be better suited. Online education providers should offer plenty of information about their programs so take advantage of this and get as much out there before enrolling!
Make Time to Study: Online courses are flexible, but they still require time and effort on your part. In addition to reading the material provided by your provider, make sure you have enough free time during weekdays or weekends (depending on when classes meet) in order for you to complete assignments or attend virtual discussions. Online education might seem like an easy way out but there is still some work involved and if you don't make time now then it will be harder later!
Don't Be Afraid To Ask Questions: Online courses are often self-paced, which means that there may not be a lot of interaction with other students unless they ask for help in the discussion forums. Don't let this discourage you from reaching out – most people will gladly assist others who need assistance understanding something better than themselves (just remember not everyone gets everything right away). Online education providers should offer plenty of resources such as chat rooms and email addresses; use these tools to get answers when needed because no one wants their money wasted on a course they can't finish or understand!
Conclusion
Final Thoughts Online education is a great way for businesses to improve their bottom line and achieve their goals. It's affordable, flexible, and provides employees with the opportunity to learn new skills that can be applied directly to their jobs. In addition, online education can help businesses increase their brand recognition and improve employee productivity. If you are interested in online education, make sure to do your research before enrolling and be prepared to put in the time necessary for success. Asking questions is also encouraged so don't hesitate to reach out if something isn't clear – most people are happy to help!
Online education is a great way for businesses of all sizes to improve their bottom line by training employees in the skills needed for success. Online courses are typically self-paced so you can learn at your own speed without having anyone else hold back or push forward too quickly – this makes them perfect for busy professionals who want an affordable way of getting new skills while working full time!